Lewis and Clark National Historical Park
Astoria, Ore.
Visited: July 13, 2005
NPS Site Visited: 215 of 353
NPS Website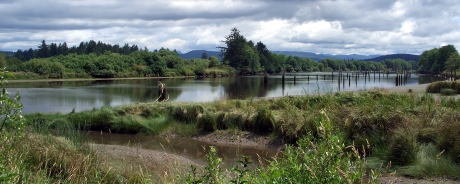 WHAT IS IT?
The Site formerly known as Fort Clatsop N MEM. Fort Clatsop was the makeshift fort where the Lewis and Clark expedition spent the wet 1805-1806 winter, the western-most and halfway point of their legendary journey.
In November 2004, President Bush signed into law a "plan to create the new Lewis & Clark National Historical Park by incorporating state parks in Washington and Oregon along with the current Fort Clatsop National Memorial Park." As of July 2005, those State Parks are still operating with State Park rules, bureaucracy and entry fees while the federal Fort Clatsop N MEM chugs along as it always has.
The "New Park" is presently, for visitors, just a name change. Fort Clatsop N MEM is now the more recognizable, Lewis and Clark NHP. This Site review covers only Fort Clatsop, not the Washington and Oregon State Park Sites.
BEAUTY (6/10)
The tiny reconstructed Fort Clatsop stands in a peaceful wooden clearing surrounded by soaring pine trees. It is hard to believe that 30 men lived for three months in this 50-foot-by-50-foot abode. We can only imagine the tensions and arguments that resulted from such a cramped space, especially given their winter's relentlessly rainy weather.
The meandering marshy Lewis and Clark River that borders the Site emits striking blue-green shades and offers some terrific birding opportunities. We overheard another tourist say, "it is a shame they weren't here during the summer, this place is really beautiful." We completely agree.
HISTORIC SIGNIFICANCE (6/10)
Lewis and Clark's intrepid Corps of Discovery lived here from early December of 1805 through late March of 1806. Their time on the Oregon coast consists of a string of misfortunes and lacks the adventure found on much of the Trail.
For starters, it rained for 94 of their 106 days here. The salmon the men ate was too rich for their intestinal composition. Everybody got very sick. Clothes, bedding and hides all rotted in the damp air. While here, the men made salt from the seawater, serviced their weapons and saw a dead whale. Clark explored the flora and fauna, updated his journals and worked on the maps. Not necessarily the stuff of epic tales.
Nonetheless, the Fort marks an important stage of the journey, the place near where they first viewed the Pacific Ocean and spent three months of the trip.
CROWDS (7/10)
We are not the only ones with Lewis and Clark fever. We love seeing other people excited about history but be forewarned. Even on a midweek morning, the Fort Clatsop adjunct parking lot neared capacity. From there, a shuttle takes you to the Park site. On weekends, the Park literature suggests public transit. If you plan on driving to the Lewis and Clark Interpretive Center in nearby Ilwaco, Washington get there early. Its parking lot was almost full at 9:30 a.m., a half hour before the Museum even opened.
EASE OF USE/ACCESS (3/5)
Fort Clatsop N MEM is located near Astoria, Ore. at the northwestern most tip of the Beaver State. The Site is about 100 miles northwest of Portland, Ore. Signs for the Site are everywhere; Lewis and Clark is a big deal.
CONCESSIONS/BOOKSTORE (4/5)
The store's book selection is very good if not exceptional and takes a backseat to the L&C high-end merchandise and memorabilia. Displayed in a glass case for sale are ceremonial wooden oars, L&C botanical scarves, cowhide explorers' journals, hand-carved figurines and limited edition Pendleton blankets. The bookstore is very nice but lacks the whimsy, affordability and kitsch that we really enjoy.
COSTS (2/5)
Entry into Fort Clatsop is $5 per person, free with the National Parks Pass. Your entry ticket also includes a 3-day regional bus pass, tickets for the historic Astoria Riverfront Trolley (ask your L&C shuttle driver) and free rides on the Lewis and Clark Explorer Shuttle.
RANGER/GUIDE TO TOURIST RATIO (5/5)
There are plenty of Rangers ready to take on the large L&C bicentennial crowds. Two Rangers greet visitors in the makeshift parking lot, two Rangers answer question in the VC and two costumed Rangers ramble around the Fort itself. Our favorite Ranger was a beautiful 10-year old Newfoundland. She posed for pictures doing her best Seaman impression.
TOURS/CLASSES (4/10)
The Museum does not seem to have received the bicentennial facelift enjoyed at other L&C Sites. As a result, it lacks the interactivity and fun we enjoyed elsewhere. The Site counters with helpful roaming Rangers who can fill you in on the epic story. The film is a truncated version of the Ken Burns documentary.
FUN (5/10)
We find Lewis and Clark's winter at Fort Clatsop (and the corresponding Park Site) anticlimactic. L&C turned around here after realizing that their search for a Northwest Passage was a failure. We are turning around as well; like L&C, the rest of our trip will be moving eastward. The Fort itself is tiny and the Museum is nothing spectacular. We nearly spent more time parking the car and riding the shuttle than in the small self-contained Park. Our day was pleasant if not eventful.
WOULD WE RECOMMEND? (5/10)
Fort Clatsop and the surrounding state parks are your best opportunity on the west coast to participate in the L&C 200-year remembrance. The northwestern Oregon coast might make a good day trip or weekend destination from Portland.
TOTAL 47/80
USA-C2C.com is an independent website, not affiliated in any way with the National Park Service, the National Parks Foundation or any of their partners.
(c) copyright 2003-2007
No photos or text can be copied from this site without written permission.