Brown v. Board of Education National Historic Site
Topeka, Kans.
Visited: August 4, 2004
NPS Site Visited: 70 of 353
NPS Website; Local Website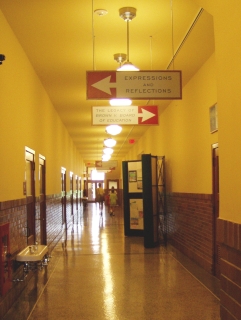 WHAT IS IT?
A museum that commemorates the 1954 Brown v. Board of Education of Topeka Supreme Court decision that made segregation in public schools illegal. The NHS is located in the Monroe Elementary building, the location of one of the five schools whose segregation case was consolidated in the NAACP argument.
BEAUTY (4/10)
Monroe Elementary School is an Italian Renaissance two-story red brick and limestone building. Its beauty and power comes from its representative nature. It could look like the old Lemoyne High School building on Market Street, it could look like the Progress Elementary School where Michael's mom teaches kindergarten. It could look like any school built in the early 20th century anywhere in America. But it isn't. It is the school where the first battle against legal segregation was won.
HISTORIC SIGNIFICANCE (9/10)
May 17, 2004 marked the 50th Anniversary of the Supreme Court decision as well as the opening day of the Monroe Elementary School Museum. A display panel in an exhibit's flipbook said that the Topeka School District did not fully integrate until 1999. A staggering thought.
CROWDS (6/10)
We wished that there were been more people at the Site, but realize that Topeka, Kansas is not an A+ tourist destination.
Had there been a large crowd, some of the exhibits could have caused discomfort. A few interactive displays ask the viewer to give their opinions regarding touchy race-related issues, like affirmative action, in not so anonymous ways. Michael was about to enter the Expressions and Reflections room while a group of women were expressing their opinions on a magnet board. They were the only people in that room. When Michael opened the door, they backed away, not willing to own up to their thoughts.
EASE OF USE/ACCESS (3/5)
The Site is less than a mile from Interstate 70, Exit 362C. There is no parking lot; you park on the one block stretch of Monroe Street between 15th and 17th Streets. 17th Street was under construction and completely torn up so we had to make a precarious three-point turn on Monroe to exit which is not a good thing because Monroe is a one-way street. We did not realize it was one-way until three blocks later when we were faced with a wave of cars coming towards us. Hopefully things will change before some tourists gets themselves hurt.
The Site introductory room is located in the old Auditorium. Five seven-minute films show the history of segregation and racism in five different sectors of society: War and National Service, How Segregation Came to Be, Civil Rights, Resistance and Education. The multi-media films are impressive but have one large drawback, the screens are placed far too high and at a precipitous angle. We moved on after two films because our necks were sore from looking upward.
CONCESSIONS/BOOKSTORE (3/5)
The Site has a terrific selection of books regarding the Brown v. Board court case and the legal struggle for civil rights. The remainder of the bookstore, like the museum, spreads itself a little thin. It tries, but does not have a definitive selection of civil rights and African American history books and videos. Some notable books are missing, like Taylor Branch's Pulitzer Prize winning Parting the Waters. A few PBS VHS tapes are for sale but not the definitive Eyes on the Prize series. (We later learned that Eyes on the Prize is no longer sold becuase of copyright troubles regarding the soundtrack. This legal snafu is tragic for the scores of Americans who won't see this definitive documentatary.)
COSTS (4/5)
The site is free.
RANGER/GUIDE TO TOURIST RATIO (2/5)
A volunteer at the Site's entrance greeted us. She said there would be a Ranger in each room who could answer any of our questions. We did not see any Rangers during our three hour visit except the one in the Gift Store and the one retuning from lunch. We are willing to give the brand new Site the benefit of the doubt.
TOURS/CLASSES (8/10)
The Site consists of four rooms that enjoy a wide variant of success: Education and Justice; Race and the American Creed (the Auditorium); The Legacy of Brown v. Board; and Expressions and Reflections.
The Education and Justice room is tremendous and filled with interactive displays. The room tackles the specificities and immediate results of the Supreme Court Case with great depth using a variety of learning methods. The Education and Justice Room is the essence of the NHS. We found the other three rooms to be a bit extraneous.
We spent nearly two hours in Education and Justice Room alone. We watched the five ten-minute documentaries that separately explained the five cases of segregation and the one film that explained how the NAACP combined and argued them before the Supreme Court. A touch-screen computer put you in a segregated classroom and forced you to make decisions as to how you would right the situation.
In order to get to the other half of the Education and Justice Room we had to walk through the Site's most commanding and dramatic exhibit: a long narrow corridor with large screens mounted on its walls. On the screens is stock 50's and 60's era footage of threatening whites protesting integration. They scream racial epithets and other hateful words over the speakers mounted on the corridor's low ceiling. Bravery and struggle take on new meanings.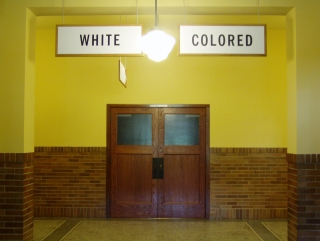 FUN (7/10)
It is exciting to visit a new site. This one is a mere two months old. Although still in its infancy, most of the site's interactive displays are ready for use and use we did. We spent hours watching the Brown v. Board Supreme Court case's evolution in the Education and Justice Room. We appreciated the use of the school building, complete with miniature water fountains. The school setting was conducive to learning. We walked the halls and changed classes as we moved from one display to the next. Like school, we liked some more than others.
WOULD WE RECOMMEND? (8/10)
This was definitely the highlight of our day in Topeka. There is construction occurring outside the school – perhaps for a parking lot? There are still some empty shelves in the bookstore, ample space on the first floor and an entire second floor that could be put to use for future exhibits. A trip today to the Brown v. Board NHS is worthwhile. We think exhibits in this site could expand and be enhanced over time. It will be interesting to see it grow.
TOTAL 54/80
USA-C2C.com is an independent website, not affiliated in any way with the National Park Service, the National Parks Foundation or any of their partners.
(c) copyright 2003-2007
No photos or text can be copied from this site without written permission.